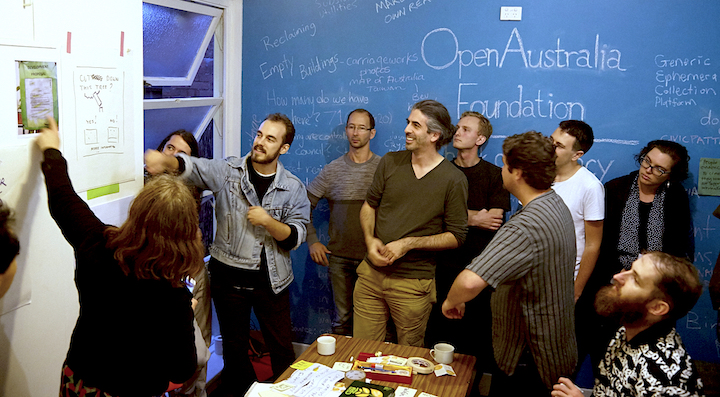 Are you passionate about open source technology and improving our society? Come work on the OpenAustralia Foundation's open source projects and learn how to fix bugs in Australia's democracy with a paid, full-time, and remote Outreachy Internship from May to August this year.
Outreachy Internships are a way for newcomers from underrepresented backgrounds to get experience contributing to free and open source software projects by doing paid, full-time work:
Currently, internships are open internationally to women (cis and trans), trans men, and genderqueer people. Additionally, they are open to residents and nationals of the United States of any gender who are Black/African American, Hispanic/Latin@, American Indian, Alaska Native, Native Hawaiian, or Pacific Islander. We are planning to expand the program to more participants from underrepresented backgrounds in the future.
We're looking for someone who:
has experience building human-friendly software;
has experience doing Ruby on Rails development; and,
wants to make our democracy more open and inclusive.
Over the course of the internship you'll receive US$5,500 (currently about $7100 Australian Dollars) from the Software Freedom Conservancy who coordinate Outreachy.
Key dates
April 13: Deadline for applications (extended from March 30 as we've join the program late)
May 4: Outreachy announce the accepted participants
May 30 – August 30: Internship period
Outreachy Mentor
We're a tiny team (4 staff and a dozen or so contributors), and we work very collaboratively. You'll be in contact with most of us (including the Henare Degan and Kat Szuminska) in our Slack channel during the internship, but your main contact and mentor will be Luke Bacon (me). Here's my contact details:
You can also contact our whole team via email with contact@oaf.org.au. Email us for an invite to the Slack channel.
Applying
Read the rest of this post.
Check out our projects list and see if there's something you'd like to work on with us for three months.
Read through the Application Process guide.
Pick a small, introductory contribution to make and make a Pull Request to our project with your contribution. At this stage you might want to email us or join our slack channel to ask questions. We have a GitHub Issues label "good for first contribution". Use that list to find something that interests you and would involve related skills to the project you've selected.
Submit your application to Outreachy following the instructions here https://wiki.gnome.org/OutreachProgramForWomen#Send_in_an_Application.
Tips for your application:
Tell us about the projects you've worked on and your programming experience.
Tell us why you choose us and the specific project you want to work on. What do you want to learn and achieve through this program?
Link to your merged Pull Request (which is a requirement to be considered for the internship). Be available and responsive through the application period so we can help you improve your application.
We're here to help if you have any questions. Email us on contact@oaf.org.au .
Why Outreachy?
Many groups of people are excluded from participating in Australia's democracy along lines like their gender, ethnicity, age, wealth and sexuality. Our projects need to be useful to those people as they participate and lead or we're just reinforcing the existing concentration of power. We need a team with a broad range of backgrounds and perspectives to build tools that can do this. Outreachy is the perfect fit for us to find someone who wants to join our team, get to know them, and train them up in our approach.
We're also very passionate about open source as an approach and we rely on free and open source software (FOSS) to do our work. All our projects are FOSS and we try to be an example of how an organisation can be open about it activities and decision making. Outreachy is run by people working on great FOSS projects and we actually use a number of participating organisations' work. It's a pleasure for us to get to help someone start contributing FOSS and be part of Outreachy.
Working with us
The OpenAustralia Foundation aims to transform our democracy by giving all Australians the tools they need to effect the change they want. We create simple technologies that encourage and enable people to participate directly in the political process on a local, community and national level.
In working on our projects you'll be constantly chiseling away the complexity of government bureaucracy and allowing citizens focus on the things that matter to them. This isn't easy. We need to constantly advocate for citizens and their right to know and participate.
The Outreachy Internship is a remote program–all the communication and collaboration happening online. This is how most open source contribution works, and we're a completely remote team ourselves. Most of us live and work from different parts of the east coast of Australia. You'll get a travel fund to meet the team as part of the program. We're generally working and responsive between 10am and 6pm Monday to Friday AEDT/AEST.
All our project communication happens in GitHub Issues and Pull Requests and in our Slack channel where our team and volunteers chat while they work. We generally try and keep everything in Github, but if you'd like to join us in Slack to ask questions and get to know our Outreachy mentors don't hesitate to email us for an invite contact@oaf.org.au. We have a #hackerspace room for letting people know what we're hacking on and asking questions. There's also #townsquare for general discussions and introductions.
Before applying